Shop By Category
Get our latest collections on all categories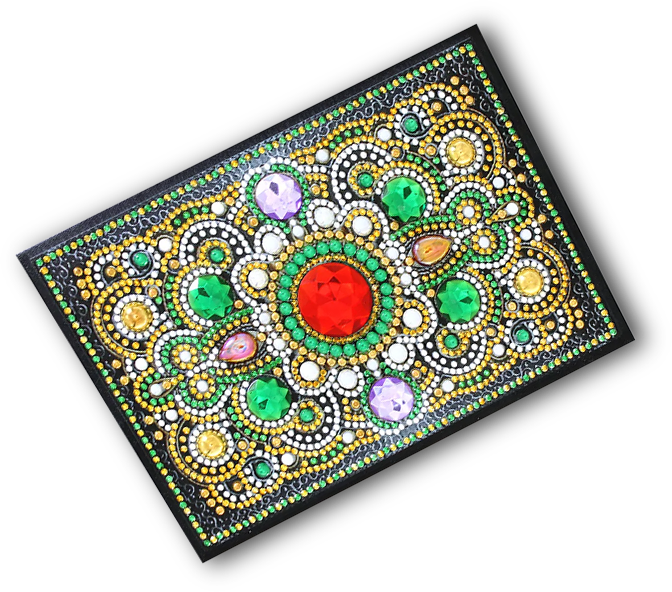 Know The Story
Hello CCAD Family! Not too much to tell other than this would not have ever come to fruition without my daughter in law Jennifer Harris-Reed. In 2019 she showed me a diamond painting that she completed. I thought it was really neat and different, so I bought a resin cat canvas to see if I liked it and I did! I got a 2nd diamond painting of a tiger head with blue eyes to make for my Sister Cristina Moore, who Loves large cats.  I was shocked and thrilled when that kit arrived with 'crystal drills'❤️✨
Crystal diamond painting is a popular craft that involves using small, colorful acrylic rhinestones, or "diamonds", to create a beautiful and intricate mosaic-style picture. The process involves using a special adhesive canvas, which is pre-printed with the design of the image, and then carefully placing the diamonds on the corresponding color-coded symbols on the canvas.
As each diamond is placed, the picture slowly comes to life with vibrant colors and sparkling brilliance. crystal diamond painting is a relaxing and meditative hobby that can be enjoyed by people of all ages and skill levels, and the finished product makes a stunning piece of artwork that can be displayed in your home or office. With thousands of designs available, from animals and landscapes to abstract patterns and famous works of art, crystal canvas offers endless possibilities for creativity and self-expression.
I've grown to love the craft and hope that you do to!  If you have any specific questions, you may email me directly at crystalcanvasinfo@gmail.com
Many thanks & Enjoy!
❤️Amy
Read More
OMGOMGOMG!!! Do you know how AMAZING this purple dragon kit is?!?!? AND THE COLOR COORDINATED TOOL KIT!!!!
Ok, so if you want to see how excited I am, and how much I have fallen in love with your shop, just take a peek at my wishlist 😆😆😆. Your delightful shop has restored my joy in diamond painting.
Ffoenix Rae 12/7/22
Hi! I just wanted to let you know I received my order today and am thrilled! There are sooo many places to purchase diamond art and I found your name in the book by Jennifer Roberts.  You have items I haven't seen on other sites and your prices are reasonable.  I try to support small businesses whenever possible. I am so happy with my purchase! Laura Lassiter
Laura Lassiter
I just received my last order from you, and as usual it was packed well, sent quickly, and in great condition. I have just had emergency major surgery and am limited in my activity so I will be crystal painting a lot. Thank you for being so thoughtful by adding a personal touch by signing the invoice. You have excellent taste and quality in the items you offer. Thanks for being a warm caring business.
Dollie
Dear Amy
How kind to receive your latest update today… it means so much and sometimes you may need reminding… when your days are full of admin… your warehouse is just too full… you have customers that are 'too demanding'… you don't know what your family will be eating tonight… you are doing such special work! During these challenging pandemic times, when our sickness figures are increasing, to have a little 'something' to take our minds off things, is the tonic we need. That's exactly where you and your family come in. Tonight I had one decisions to make after coming back from work: do I go out and put others or myself at risk? Is there something else I can do? I know… Crystal Art and a glass of wine… knowing my sister in Chile will receive a treat…You are our 'team' that keeps us going…
I work for the police here in the UK. 'Caring' is one of the most important values of our Constabulary in our county of Avon and Somerset. You are so deserving of that value! Thank you for caring…
A big hug
Helen xxx
Helen
Amy
Just a short note to say the canvases have arrived safely and I am delighted with then. I cant wait to start. At least buying 5 in bulk helped a little and will keep occupied for some time lol.
There is no doubt I am going to be back however as even with the shipping charges I believe your product is superb.
I am shortly going to be starting a YouTube channel in the UK for Diamon painting and will absolutely be showing your canvases off and singing your praises.
Thank you so much for all your help, patience and the sale you had to help. You are amazing
Love
Debs Altunel
Debs Altunel
Can't say enough wonderful exciting things about Crystal Canvas Art Designs. It's relaxing, fun and oh so easy. Your finished product give a feeling of accomplishment and people who see the outcome always want to know more about it. Thanks Amy
LorrenandNancy Gronewold
Turned out great! I love it. Cant wait to start my Tiger. Thank you for the gorgeous products!
Cristina Dunn Ladyga
Can't get over the sparkle!! Looks awesome!
Tammie Louise Niles
Its gorgeous! Too adorable.. I love it!!
Journey Asplund